Anti-Corruption Laboratories is a pioneer and first nationwide project that examines and assesses corruption risks and their factors in various selected areas that Regional Dialogue has been implementing with Yuksalish since 2020. This project is important for developing corruption risk assessment methodologies that would enable Uzbekistan's civil society organizations and public institutions to apply them whenever and wherever needed to identify and assess corruption risks. Regional Dialogue's goal is to build the methodologies and competencies that have been missing from the toolkit of local organizations and our partners and empower the public sector institutions and civil society actors to sustainably detect, assess, and manage corruption risks and risk factors independently. Uzbekistan Anti-Corruption Agency is a key partner and national coordinator of the project's long-term efforts.
Regional Dialogue is supporting Yuksalish in simultaneously implementing two corruption risk assessments: one in the process of grading in higher educational institutions and the other in the area of obstetrics in healthcare institutions. All AC Lab projects include continuous consulting and subject-matter support by Regional Dialogue's anti-corruption experts. National subject-matter experts are also engaged as project consultants to support Yuksalish with their expertise in specific research and survey areas.
The outcomes of the first two AC Laboratories, focused on assessing corruption and integrity risks as well as their influencing factors, in the context of primary school admission (2021) and the establishment of a public-private partnership for a preschool educational institution (2022), have been published in three languages (English, Uzbek, and Russian).
The final reports and recommendations they provided have been noted for the development of several reforms in public and preschool education.
The third AC Lab final reports are expected in January 2024. Follow updates on our website, Facebook page, or Telegram channel.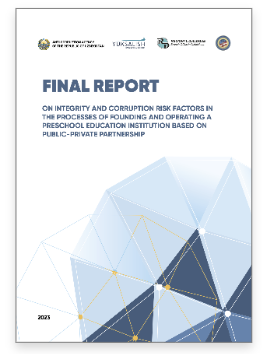 Final Report On Integrity And Corruption Risk Factors In The Processes Of Founding And Operating A Preschool Education Institution Based On Public-Private Partnership 2023
Download PDF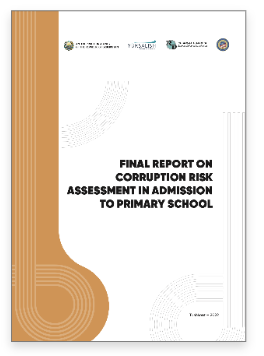 Final Report On Corruption Risk Assessment in Admission to Primary School 2022
Download PDF
Donors