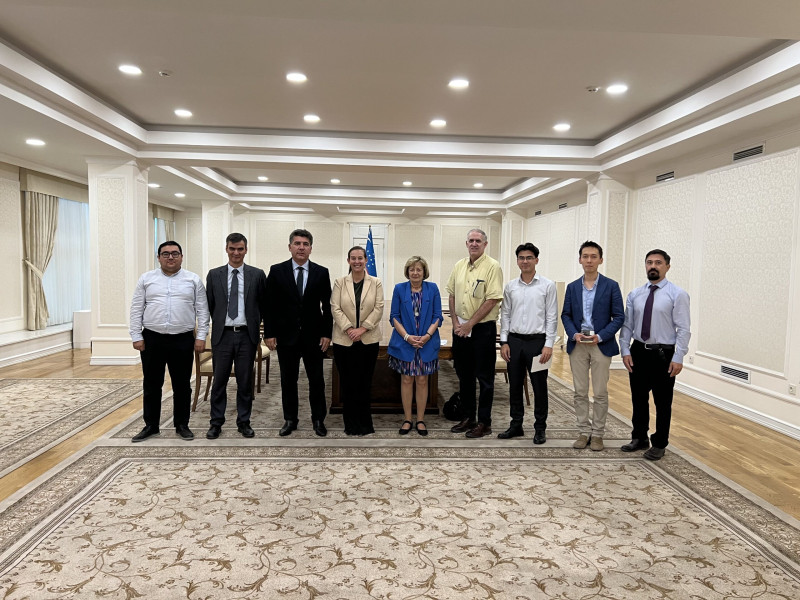 During 14-16 August, the Regional Dialogue office in Tashkent, Uzbekistan, hosted a visit from Grace Mason, the Program Officer of the US State Department's Bureau of Counterterrorism, the donor of Regional Dialogue's grant led by the Consultant Richard Joyce and his team of local staff.
During the visit, Regional Dialogue coordinated meetings with the Law Enforcement Academy's teaching staff and prosecutors of the financial intelligence unit of the General Prosecutor's Office. During the discussion, Acting Director of LEA Mr. Yevgeniy Kolenko stressed that LEA highly appreciates cooperation with Regional Dialogue in several areas, especially in the area of anti-money laundering and countering financing of terrorism.
Meetings were also conducted at the Supreme Court, where the main priorities and existing challenges were explained, and interlocutors discussed the main points of further cooperation.
A meeting with the Institute for Strategic and Interregional Studies under the President explored possible cooperation in the area of domestic and regional security. Deputy Director Mr. Akram Nematov stressed that ISRS would appreciate support and expertise in the area of tackling radicalism and terrorism propaganda through social media and other online platforms, as well as cooperation in other urgent issues (cryptocurrencies, dark net, etc.).
At the meeting with the Institute of Legislation and Legal Policy under the President, Director Prof. Mir-Akbar Rakhmankulov explained the main tasks of the institution that is engaged in major social and legal development issues like gender equality, prevention of radicalization, and the rule of law. Director Rakhmankulov and his colleagues stressed good cooperation with Regional Dialogue and expressed hope for even closer cooperation on different topics of mutual interest.
Donors