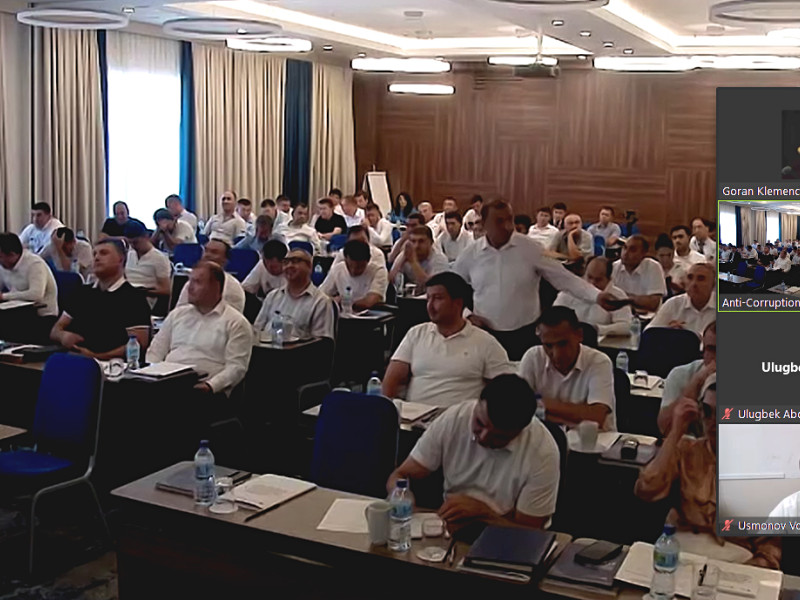 The Anti-Corruption Agency of the Republic of Uzbekistan (ACA) and the Representative Office of the Konrad Adenauer Foundation in Central Asia organized a two-day seminar-training on Countering corruption and effective implementation of the "compliance control" system for employees of state bodies and organizations, including internal anti-corruption control bodies of local governments. Regional Dialogue facilitated the training by providing international experts, Goran Klemenčič, RD Legal Expert, and Valts Kalnins, Assistant professor at the University of Latvia, political analyst on anti-corruption and good governance, covering the topics of Corruption risk and Conflict of interest.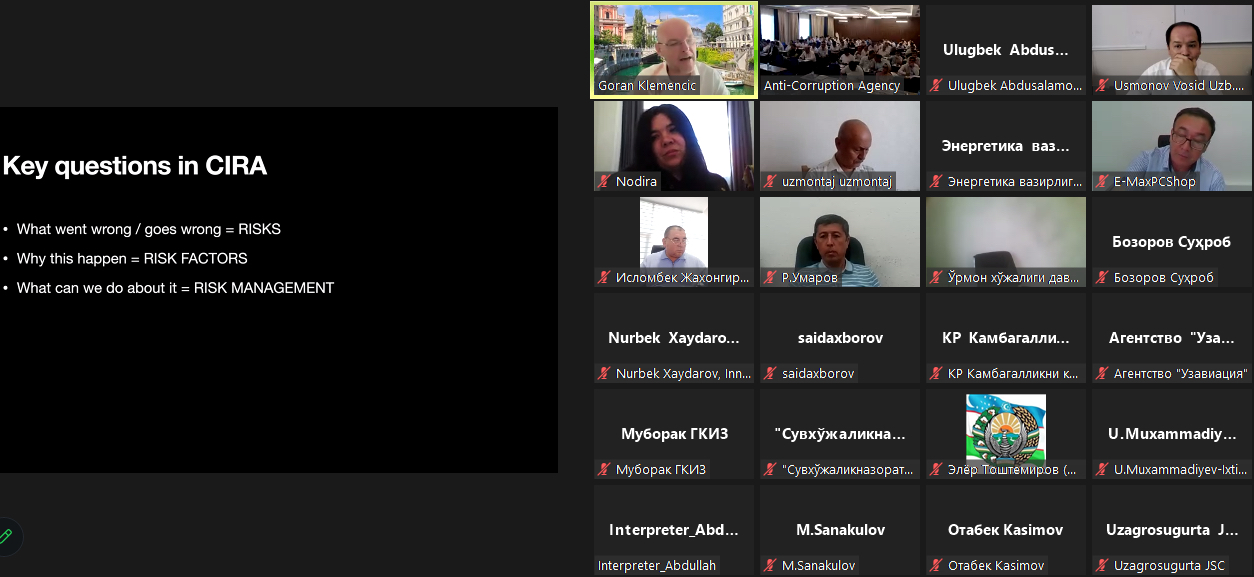 Goran Klemenčič gave an overview of Corruption & Integrity Risk Assessment (CIRA). He discussed the underlying reasons for integrity risks, illustrating these with specific risk factors examples. Klemenčič outlined the key risk assessment stages, how to identify risks and their causes, as well as drafting an integrity plan. Highlighting the significance of content over mere form, Klemenčič underscored the paramount importance of the substance within CIRA by stating: "CIRA should not become a bureaucratic example, it should not become a bureaucratic exercise, it needs to have content, it needs to be done properly, otherwise it defeats its own purpose." Klemenčič further emphasized that Uzbekistan, despite entering this process later, holds a unique opportunity to glean insights not only from successful practices but also from past mistakes, thereby avoiding their replication.
Valts Kalnins spoke about the identification and management of conflict of interest, along with elements of international standards (OECD) with examples from European countries at monitoring, supervision and support at tackling this problem.By referencing instances, legal definitions, and case studies, he took an analytical approach and steered the audience's focus toward the contentious elements within them. He emphasized the importance of civil servants having real-life examples to accompany the rules and suggested the creation of a catalog containing these real-life examples and materials.

During and following the presentations, both experts were engaged with questions from the audience, delving into various aspects of combating corruption and fostering integrity. Topics, covered in the Q&A session, covered development of Indicators to Combat Corruption, dealing with Corrupt Leaders and Senior Employees, assessment of Corruption Risk in Employee Communication, Comparing Anti-Corruption Approaches in Uzbekistan and Slovenia, Slovenia's and Latvia's experiences and practices in Anti-Corruption, Latvia's legislation, regulations and a database for Conflict-of-Interest Detection, along with insights into its creation, consequences of Concealed Conflict of Interest, and Handling Conflict of Interest during Maternity or Academic Leave.
The engagement of the experts with these intricate and practical questions underscored the complexity of corruption-related challenges and the necessity for nuanced approaches to address them effectively.
Donors